Wilson's Warbler
Wilson's Warbler Video Clips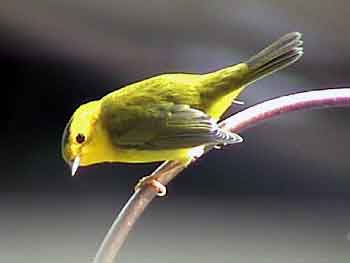 Wilson's Warbler
Wilson's Warblers are flighty. However, this one couldn't resist taking time out for a drink. Adding a water feature is probably the most important feature in creating a wonderful backyard wildlife habitat. The sound of dripping water brings in those shy birds. They just can't resist a drink or bath.
Unlike the Yellow Warbler who spends only a seven-week span in the North American breeding grounds, Wilson's Warblers spend about three months on their breeding grounds before heading southbound back to their tropical winter homes.
When observing Wilson's Warblers in bushes and trees, they flick their wings and tails similar to kinglets. We sometimes see them catch flying insects in the air.