American Goldfinch
American Goldfinch Video Clips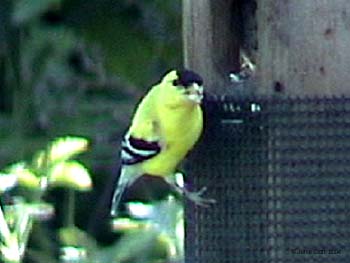 American Goldfinch (Male)
America's Wild Canaries
American Goldfinches are often called "Wild Canaries." During the spring, the males change from their drab winter colors to a bright yellow with very distinguished black caps and black wings as seen in the above picture. As the breeding season ends, the males molt, lose their bright and distinctive colors, and eventually blend in with the crowds of females and juveniles.
Thistle & Goldfinch
These joyful, acrobatic birds prefer thistle plants. They dine on thistle seeds and use thistle down for nesting material. In fact, thistle and goldfinch are nearly inseparable. Even the genus name, Caruelis, is from the Latin word carduus, meaning "thistle."
American Goldfinch Sound Clip
To listen to a sound file and view a waveform and spectrogram image click here.
American Goldfinch Male with Very Small Black Cap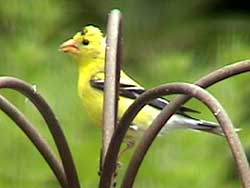 American Goldfinch Male with Small Black Cap
On July 3, 2006, we saw a most unusual American Goldfinch causing us to do a double-take. As you can see, he hardly looks like the normal goldfinch with his small black cap.
American Goldfinch Female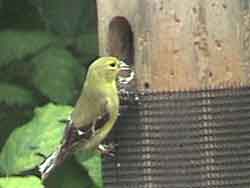 American Goldfinch (Female)
Goldfinch Nests
At our location, American Goldfinches start nesting in late May or early June. She weaves her nest so tightly that the nest can hold water. In order to keep the nest cup from filling up with water, and possibly drowning the nestlings, the female goldfinch protects the nestlings by shielding them with her out-spread wings.