Broad-tailed Hummingbird
Broad-tailed Hummingbird Video Clips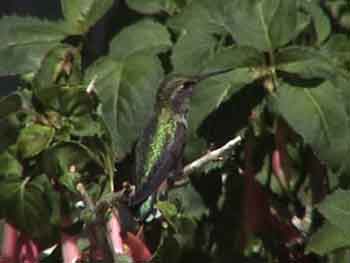 Broad-tailed Hummingbird (Female)
A female Broad-tailed Hummingbird arrived at our wildlife habitat in Waldport, Oregon during August of 2005. This is the first recorded Broad-tailed Hummingbird on the Oregon Coast.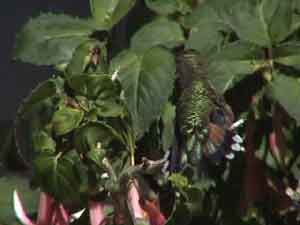 Broad-tailed Hummingbird (Female) Showing Tail Feathers
Because Broad-tailed Hummingbirds are not in our area, documentation of the hummingbird was crucial for positive verification. Using video and pictures are the best way to obtain solid documentation. Then, with the help of bird experts, and a copy of Sheri Williamson's Hummingbirds of North America, positive identification can be had.
Identifying a Broad-tailed Hummingbird
A Broad-tailed Hummingbird's long tail has R1-3 with a rufous color often mixed with black and green. R4 is all green but R3-5 feathers are rounded, rufous in color, with broad white tips.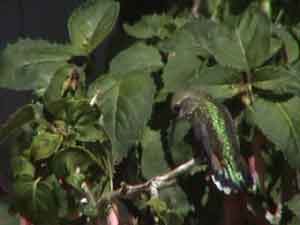 Broad-tailed Hummingbird (Female) 1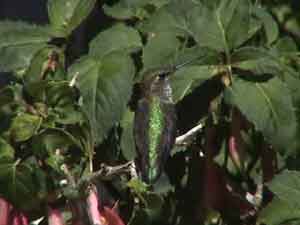 Broad-tailed Hummingbird (Female) 2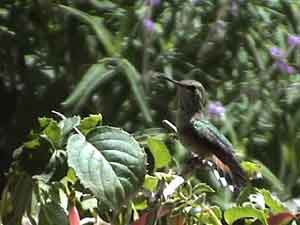 Broad-tailed Hummingbird (Female) 3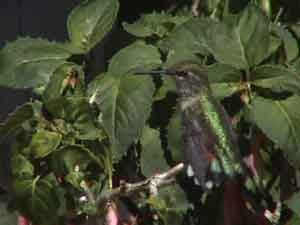 Broad-tailed Hummingbird (Female) 4
Noticing Unusual Behavior Helps Identification
Her unusual behavior caught our attention. She pumped and spread her tail feathers often. She was the size of an Anna's Hummingbird, 4 inches, rather than the smaller Rufous which are 3.75 inches. We noted her buff or peach-colored flanks. The flanks didn't have a strong rufous color. When she spread her tail, and she did it uncommonly often, there was rufous coloring at the sides of the tail near the base but she had a dark green R4. Her tail and back were a strong emerald green color. Her tail was long and broad, nearly cape-like when she sat. When she was attacking her reflection in the window and also in the gazing globe, it was obvious that her tail was much larger and wider than the other hummers. Her perching posture was more like an Anna's than a Rufous and her wings seemed long and wide.
Attracting More Hummingbirds
Attract more hummingbirds to your backyard wildlife habit by planting more hummingbird plants and provide them with home-made nectar. The secret to increasing your hummingbird population is making sure you keep the feeders clean and filled.
Despite their small size, hummingbirds are hardy. They can survive sub-freezing temperatures, and even blizzards, by going into torpor-a sleeplike state that saves energy. When not in torpor, however, hummingbirds use energy quickly. Its heart beat is more than 10 times per second. By providing food, you may help a hummingibrd survive at a time of year when insects and nectar are difficult to find.