Black-throated Gray Warbler
Black-throated Gray Video Clips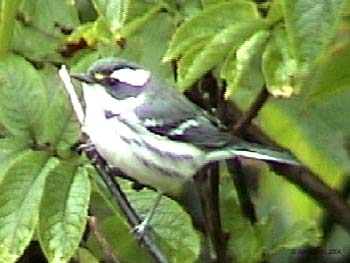 Black-throated Gray Warbler
In August, we often see Black-throated Gray Warblers as they pass through heading to their southbound winter homes. Look for their yellow lore to help identify this bird.
We were fortunate to have our birder friends, Jim and Bev Neal, visiting when their sharp eyes noticed our first sighting of the Black-throated Gray Warbler in a red elderberry bush.
During the last week of July, 2004, there were a number of reports on Oregon Birders On-Line (OBOL) stating Black-throated Gray Warblers were seen feeding Brown-headed Cowbird fledglings.
Some birds distract intruders from locating their nests by pretending to have a broken wing. The Black-throated Gray Warbler is one of these birds.