Northern Pygmy-Owl
Northern Pygmy-Owl Video Clips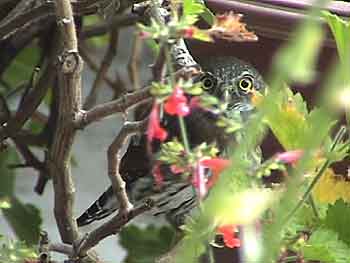 Northern Pygmy-Owl
Early on a August morning in 2004, this Northern Pygmy-Owl hit a screened window. In a few minutes, it flew off into the woods. These small 6 3/4-inch owls catch moths, small mammals and small birds.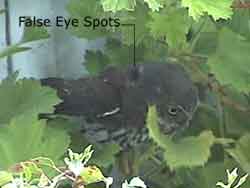 Northern Pygmy-Owl (Eyespots)
Common to all pygmy-owls are "false eye spots" on the back side of the head where the collar is located.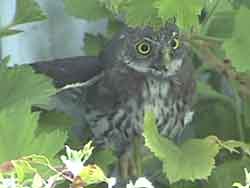 Northern Pygmy-Owl (Wing Out)
A close-up of the owl. The right wing is stretched over the leaves of a Martha Washington geranium.
A great web site for detailed information on the Northern Pygmy-Owl (and other owls) is The Owl Pages.