Northern Flicker (Red-shafted)
Northern Flicker Video Clips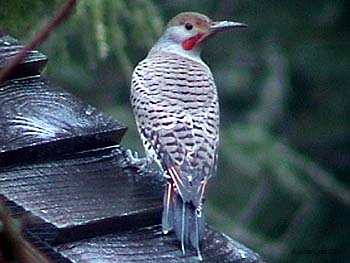 Northern Flicker Red-shafted (Male)
The Red-shafted Northern Flicker has red malar stripes and red shafts.
Red-shafted Flickers are at our location all year. They chase the Yellow-shafted Flickers away from their territory every spring. In 2002, they nested in one of our three nest boxes and raised three flickers. During the winter months, the Yellow-shafted flickers return, and all three nest boxes become roosting boxes for whomever rules the roost.
Their favorite foods are sunflower seed chips, suet cakes and peanut butter cakes.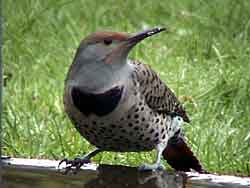 Northern Flicker Red-shafted (Female)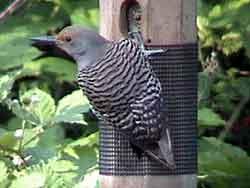 Northern Flicker Red-shafted
(Female with No Tail)
Above is another female Red-shafted Flicker. Notice she had no tail. She has been without a tail since she arrived in 2002. We've seen tail feathers start to grow but they either fall out or she pulls them out. The last time we saw our "tail-less" flicker was in the spring of 2006. Whether she died or finally grew tail feathers is unknown. You can watch a video of "Tail-less" and a Red-shafted male doing a "Flicker Dance" together.
When Red-shafted Flickers mate with Yellow-shafted Flickers, an Intergrade Northern Flicker is the result. The Intergrade has characteristics from both the Red-shafted and Yellow-shafted parents.