Golden-crowned Sparrow
Golden-crowned Sparrow Video Clips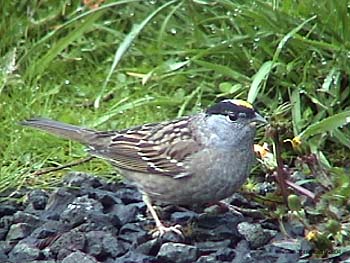 Golden-crowned Sparrow
Golden-crowned Sparrows don't breed in our area. However, some spend their off-breeding time in our area. Because they migrate with other birds, they often arrive in groups with White-crowned Sparrows. During spring equinox, we can have a few dozen Golden-crowned sparrows at our site.Research shows that Golden-crowned Sparrows find a territory during the middle of their first winter and return to it every year.
An interesting fact about these birds is that each bird has its own feeding spot at the bird feeder. Even when there are no other birds around, it uses its spot exclusively.
In their wintering range, they are strict vegetarians feeding on seeds, buds, flowers and garden vegetables. They are particularly fond of sprouts. When the chipmunks bury their sunflower seed cache and the seeds sprout, the Golden-crowned Sparrows enjoy the harvest.