California Quail
California Quail Video Clips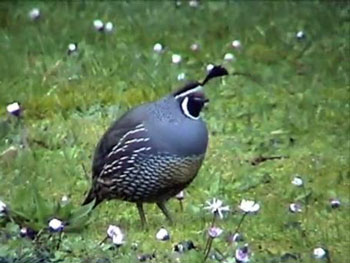 California Quail
This male California Quail was seen in our backyard wildlife habitat on April 3, 20009. It is the first quail we have seen here in 10 years.
These birds, like ducks, are precocial which means that they are covered with down at hatching, their eyes are open, and they are able to run almost as soon as their down is dry. This is the opposite of most birds which are altricial. The altricial birds are born naked, blind and helpless.
The young chicks are accomplished fliers in just 14 days. However, they continue to be brooded for a full four weeks after leaving the nest and begin roosting in trees with the adults.